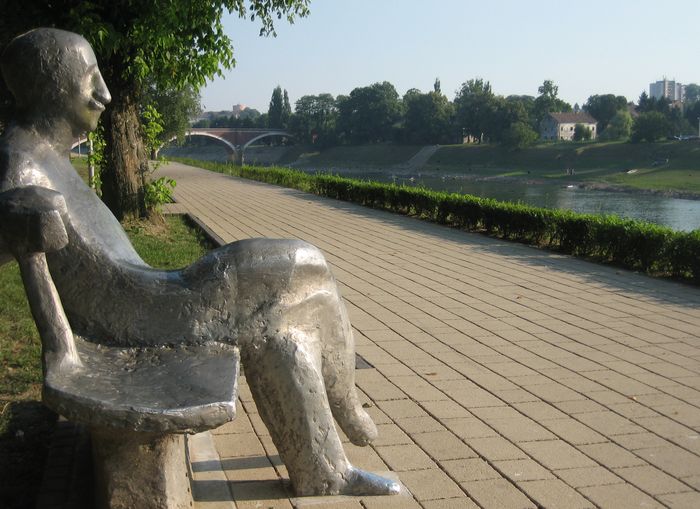 "Be righteous, Pero, not being successful as a soldier. Even be a laborer, but remain honest as all your ancestors. Here is a revolver which may be of use to you, even for yourself, in case of any shame you may commit, to yourself or to me. It is better to die honorably than to live in disgrace."
And Tkalac found, in the disorder of his luggage, which was like that of a gipsy`s, a photograph, and although it was quite dark, a lady, somewhat gray-haired, stepped out of the picture—she was still of a girlish build, pale, attractive, dark-eyed, with a permanent, sad smile—and this foreigner, after two years of dissipation, pressed this dear, lifeless relic to his lips, weeping like a child before going to sleep, great big tears; and consoled by the shadow of his dead mother, he fell asleep without so much as removing his clothes.
He was abruptly awakened by a tapping on the window. Knowing every emotion except fear, he was greatly surprised and thought he was suffering from hallucination. The tapping on the window was repeated, once, twice, three times. He rose, approached, and noticed a key dangling from a string which had been lowered from the floor above. Fastened to the key was a gingerbread heart bought at a fair. It was then near midnight. Silence reigned everywhere with the exception of the sound of a passing automobile on the street and the singing, accompanied by a mandolin, of some Italian laborers in the distance.
Outskirts of France
"We were to a fair on the outskirts of France, and remembering that you were alone, I brought you this present. This is not my home. I am a Frenchwoman who considers loneliness a misfortune and really believe that you are very unhappy alone there in the darkness of your gloomy, empty rooms."
"Thank you, thank you," he said, untying the gift, and still under the sway of the memories that had lulled him to sleep. His voice trembled with restrained sobs. Leaning back over the window sill and untying the string, he looked up to her, transformed in the soft and tepid light of the gentle full moon.
"Oh, how beautiful you are, my charming neighbor! If you could only realize what a gift you have made and what happiness you have brought to me by this cake, you would, perhaps, have reconsidered your act, because, in holding this dry heart, I feel as though I had a part of your heart and your soul."
"Ah, speak quietly, lest the neighbors should hear."
"Do not fear! Below live people who are always travelling."
Black Yard
Tkalac then leaped up and with the hand of a gymnast, took hold of the ledge of the outer window, hanging with his back and his whole body over the deep, dark, and black yard as over an abyss.
"Ah, for God`s sake! What are you doing, you maniac? Should this old rotted wood give, you would break your neck. I beg you, as a brother, a son, a god, I implore you, enter your room! Have mercy!" Suddenly she began weeping and his grasp loosening, he almost fell from the window. He felt a warm moisture upon his forehead, like a tear.
"Oh, my dear, charming, kind neighbor, were I not afraid of grieving you, I would this instant dive into the abyss as into a pool of water, because something fell on my forehead like a dewdrop, from that beautiful, refreshing heaven of yours."
"Mercy, mercy! Have mercy on me and yourself, you madman," she proceeded to beg, hardly able, out of great fear and sympathy, to utter a sound. "I will allow you everything, everything, you understand, if you will enter your room and be sensible."
As the wood of the window creaked and broke, she uttered a sup-pressed screech, while he, with one great swing, fell into his room with a loud and cheerful laugh.
Between life and death
"Until now I hung between you and darkness, between life and death, and now life and happiness look upon me from your moonlit window, my dear beautiful neighbor!"
As before, he lay on the window sill, looking at her, her shadow, interwoven in the moonlight, surrounded by warm and luminous stars, and she silently observed this new, unusual man. They conversed in silence, with their eyes, for a long time, until finally she said:
"I like you because you have not insisted upon my word and do not ask anything of me. Good night; it is necessary to save those minutes. Good night and thank you, my neighbor!"
"Ah, stay a little longer! Tell me, at least, how I should call you?" "My Christian name is Valentina."
"Beautiful name! Once upon a time, if I remember correctly, a beautiful princess was thus called."
"Yes, Valentina of Milan. And what is your name?"
"Peter, vulgar Peter."
"Good night, dear Mr. Peter, and `au revoir.` Soon my husband will come."
"Who?"
"My husband!"
"Eh! Good night!"
Read More about Balkan Tours 2019