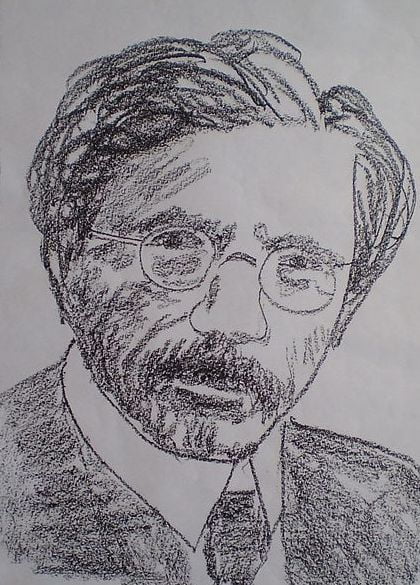 Sholom Aleichem (Sholorn Rabinovitch) (1859-1916)
Rabinovitch, known everywhere by his pseudonym, Sholom Aleichem, was born in Russia. He is one of the most beloved figures in all Yiddish literature. In common with nearly all his contemporaries, he excels in the description of the pathos and tragedy of his people, though he was frequently able, as in 'The Passover Guest, to turn a tragic theme into a richly comic one.
The passover guest is quaintly humorous, though at the same time a bitter commentary on life. It is the artist`s way of describing the lot of the Jew in the modern world.
This story is reprinted from the volume, Yiddish Tales, translated by Helena Frank, copyright, 1912, by the Jewish Publication Society of America, by whose permission and that of the Sholom Aleichem Foundation it is here reprinted.
The passover guest
Uthave a Passover guest for you, Reb Yoneh, such a guest as you A never had since you became a householder."
"What sort is he?"
"A real Oriental citron!"
"What does that mean?"
"It means a `silken Jew,` a personage of distinction. The only thing against him is—he doesn`t speak our language."
"What does he speak, then?"
"Hebrew."
"Is he from Jerusalem?"
"I don`t know where he comes from, but his words are full of a`s." Such was the conversation that took place between my father and the beadle, a day before Passover, and I was wild with curiosity to see the "guest" who didn`t understand Yiddish, and who talked with a`s. I had already noticed, in synagogue, a strange-looking individual, in a fur cap, and a Turkish robe striped blue, red, and yellow.
We boys crowded round him on all sides, and stared, and then caught it hot from the beadle, who said children had no business "to creep into a stranger`s face" like that. Prayers over, every one greeted the stranger, and wished him a happy Passover, and he, with a sweet smile on his red cheeks set in a round gray beard, replied to each one, "Shalom! Shalom!" instead of our Sholom. This "Shalom! Shalom!" of his sent us boys into fits of laughter. The beadle grew very angry, and pursued us with slaps. We eluded him, and stole deviously back to the stranger, listened to his "Shalom! Shalom!" exploded with laughter, and escaped anew from the hands of the beadle.
I am puffed up with pride as I follow my father and his guest to our house, and feel how all my comrades envy me. They stand looking after us, and every now and then I turn my head, and put out my tongue at them. The walk home is silent. When we arrive, my father greets my mother with "a happy Passover!" and the guest nods his head so that his fur cap shakes. "Shalom! Shalom!" he says. I think of my comrades, and hide my head under the table, not to burst out laughing.
But I shoot continual glances at the guest, and his appearance pleases me; I like his Turkish robe, striped yellow, red, and blue, his fresh red cheeks set in a curly gray beard, his beautiful black eyes that look out so pleasantly from beneath his bushy eyebrows. And I see that my father is pleased with him, too, that he is delighted with him. My mother looks at him as though he were something more than a man, and no one speaks to him but my father, who offers him the cushioned reclining-seat at table.
Read More about Private Tour Bulgaria